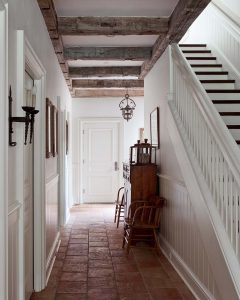 Building a custom home should be an enjoyable and satisfying experience, and the Robert Montgomery Homes team strives to make the process as easy and rewarding as possible. Our responsive personal service is unmatched before construction, during construction, and after construction when the new home is occupied.
Before construction, Montgomery works closely with new homeowners during the design phase. He provides knowledgeable input with regard to various design elements analyzing potential construction costs and offering suggestions for cost savings or enhancements.
Montgomery assists with making decisions regarding all aspects of the design throughout the construction process from the exterior detailing and landscaping to the style and finish of the cabinet hardware. Available for meetings with product representatives and visits to product showrooms, and providing mock-ups of some design elements, Montgomery helps homeowners to feel comfortable and confident in making selections.
Once homeowners are settled in their new custom homes, the Montgomery team is available for any adjustments and touch-up painting as well as assistance with plumbing, mechanical or electrical systems operations and/or instructions.
Robert Montgomery's service oriented approach to custom home building is an experience that new homeowners appreciate during the construction process and throughout the years as each of them enjoys the beauty and craftsmanship of a Robert Montgomery custom home.
As builder of the finest luxury custom homes in Kansas and Missouri, Robert Montgomery Homes, Inc. is your best value for a uniquely enjoyable and rewarding building experience.
Contact Us
Robert Montgomery Homes, Inc
4204 West 124th Street
Leawood, KS 66209-2251
(913) 338-5500
[email protected]

Materials in this website are Copyright © 2021 by Robert Montgomery Homes, Inc., 4204 West 124th Street Leawood, Kansas, all rights reserved. Text, photography, graphics, HTML code, and other intellectual property are protected by U.S. and International Copyright Laws, and may not be copied, reprinted, published, translated, hosted, or otherwise distributed by any means without explicit permission.