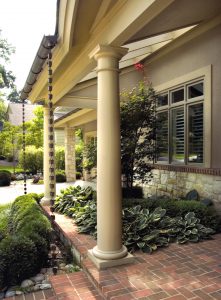 The Robert Montgomery Homes team takes great pride in the homes we build.  We strive to insure that our custom home owners are content and comfortable in their new homes and pleased with every aspect of the final product.
When you move into your new custom home, our skilled craftsmen are made available to you for adjustments, touch-ups and/or additions.  We provide a one year written warranty on materials and workmanship and we provide the manufacturers' warranty information pertaining to the subject appliances, fixtures or equipment.
All appliances, fixtures and equipment are new and include manufacturer's warranties provided for in the specifications as are customary within the industry for like kind products. Each of our custom homes carries a warranty against structural defects.
As builder of the finest luxury custom homes in Kansas and Missouri, Robert Montgomery Homes, Inc. is your best value for a uniquely enjoyable and rewarding building experience.
Contact Us
Robert Montgomery Homes, Inc
4204 West 124th Street
Leawood, KS 66209-2251
(913) 338-5500
[email protected]

Materials in this website are Copyright © 2021 by Robert Montgomery Homes, Inc., 4204 West 124th Street Leawood, Kansas, all rights reserved. Text, photography, graphics, HTML code, and other intellectual property are protected by U.S. and International Copyright Laws, and may not be copied, reprinted, published, translated, hosted, or otherwise distributed by any means without explicit permission.