It's the little touches, the special comforts, and the personal effects that make a unique custom home. It's the artistic approach, attention to detail, and skillful craftsmanship that make that custom home exceptional!
In the beginning, we came together in pursuit of a common goal – to translate dreams and vision into that one-of-a-kind custom home. We started as strangers. We are now friends.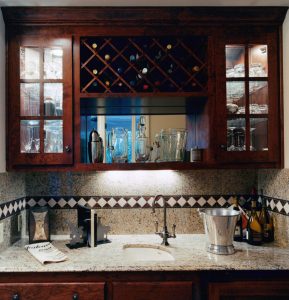 "Dear Robert,
Just want you to know how thrilled we are with our new home. We are so comfortable here and I know we have you to thank for listening to my ramblings and grandiose ideas and hunches, and then translating them all into workable, livable, non-budget breaking solutions. Of all the decisions we made over that 2 year period – we know the most important was choosing you and having the opportunity to enjoy your guidance from start to finish.
Even though I knew how lucky we were during the construction process, it has struck me more in this post-move time period when I have known that I can depend on you when and if things go wrong. Your attention to detail and consideration of all details – both large and small – is truly unmatched. I know our home is not only a reflection of Dave and me, but I look around and continually see "Robert touches" – ideas and suggestions that I would never have thought of – but are so perfect and add so much. It is seeing yourself in each of your projects that must make all the daily hassles worth it – at least I hope. I know I will always see a part of Robert Montgomery at this address.
Please put us at the top of your client reference list. We would love to brag about you!
Sandy Johnson
David L. Johnson, C.E.O. Maxus Properties, Inc."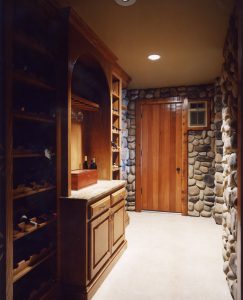 "Dear Robert,
It has been almost six months since we moved into our new home and time we properly thanked you for making the building process as enjoyable as possible given the size and scope of the project.
We appreciated the daily attention and visits you made to the site during the construction process. We also appreciated your continued involvement regarding the various items and tweaks that occurred after our move-in. We were delighted with your attention to the quality of materials and workmanship down to the smallest details and, in fact, were pleased to have your reputation as a perfectionist confirmed throughout the process.
We also appreciated the collaborative nature of the building process and your willingness to work with the architect when issues arose as well as working with the constant involvement of our decorator.
Finally, and most important, we have completed this process with profound respect for your honesty and integrity. Please feel free to give our name and phone number to any potential clients.
Sincerely,
Barbara C. Dehaemers
David G. Dehaemers, Jr., President and Chief Executive Officer, Tallgrass Energy"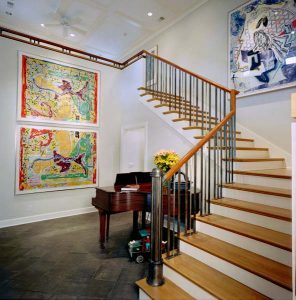 "Dear Robert,
We love our new home! The move, after 34 years in our old house, was so much easier than we could have imagined! Your help and patience was a big part of that successful transition.
We were impressed by your thorough dedication to the job – a feeling that carried over to all the subs. We learned, as work continued, that your professionalism and ethics are admired by all of them as well. We know we have one of the best built homes in the area!
Your patience with our never-ending questions and your clear explanations were greatly appreciated. You made it easy! People tell me that isn't a phrase used much with builders and new home construction – they needed our builder!
Sincerest thanks,
Barbara Gattermeir J. Peter Gattermeir, Executive Vice President, Security Investment Co."
"To Whom It May Concern:
Robert Montgomery Homes, Inc. built our custom home, which was completed in February 2005. We interviewed several builders. We were impressed by Robert Montgomery's professionalism and his character.
Robert was very interested in all aspects of our project. He assisted us in finding an architect and attended all of our planning and design meetings. His input during this phase was invaluable. Robert made sure that our wants and ideas were actually transcribed into a plan that could be built.
The construction of our home took twenty months, which was four months earlier than our expected completion date. Robert was fastidious and complete. He takes great pride in his work, therefore all of his clients benefit.
During construction, Robert was on site daily. His presence kept the project on track and helped to avoid any problems and /or misunderstandings with the plans, materials, etc. Robert chooses his subcontractors carefully and holds them to his high standards. Robert was also able to adapt and modify his style to accommodate specific people that we brought on board. Examples that come to mind include a media/smart home company and a specialty painter.
Our home project was not without some difficulties. Robert handled all these issues and more in a professional manner. His routine is to notify you both personally and in writing of any changes. Unlike many builders, who benefit from the client's upgrades, the price that Robert gives you for his services does not change throughout the project. This practice makes Robert very conscientious of your budget and contains large overruns for the client.
We can easily and without hesitation recommend Robert Montgomery. Building a home is a stressful event for any family. With Robert, I was confident that our house would be built to my high expectations and it was. We feel equally confident that any problems we may incur with this home in the future will be handled with the same professional manner and service that we were provided with during the construction phase.
Sincerely,
Kathleen P. Berger-Gillen, M.D., Anesthesiologist
John A. Gillen, II, M.D., Orthopedic Surgeon"
"Dear Robert,
We have passed the two year anniversary of the move into our beautiful new home. It seems only yesterday that we were meeting with architects, trying to envision what we needed and wanted in a house. It goes without saying that your participation in each and every meeting made the process much easier. By the time our plans were finished, I felt that we had not "forgotten" anything, because you were there to add your experience and knowledge.
The construction was just as much fun, if not more. Your attention to detail and your careful oversight on a daily basis gave us a sense that our home was being built with care and a sense of pride. There was never a question that you did not have an answer for or a concern that you did not address. Knowing that you were overseeing the process freed us up to enjoy our home from the earliest stages of construction.
I've been lucky enough to have built two homes with you, who knows, maybe a third someday. It would be my pleasure to speak with anyone interested in having you build them a home. My recommendation would be that they look no further than Robert Montgomery. Not only will they have a wonderful home to live in, they will enjoy the building process.
Once again, thank you for caring about our home as much as we do.
Michale Ann Kincaid
Greg Kincaid, Attorney – Norton, Hubbard, Ruzicka, Kreamer & Kincaid"
"To Whom It May Concern:
Robert Built our beautiful home and I am delighted to recommend him to "any and all" who are planning to build their dream home.
Robert is considered by many of us as the premier "Master Builder of Custom Homes" in the Mid-West. As a builder with architectural training, Robert has the unique ability to conceptualize how his homes should and will look before construction commences.
His attention to detail is absolute and he utilizes only sub-contractors who emulate his care and concern. The result is a home that includes all of those elusive touches that most homeowners can only lament not having after their home is completed.
Robert D. O'Byrne, President, Benefit & Insurance Services, Century Business Services, Inc."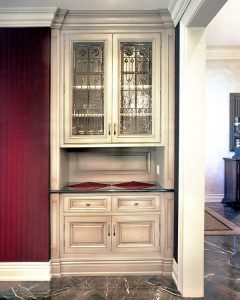 "Dear Robert,
I want to thank you for being the wonderful people you are. You make building a home a pleasure with your guidance, organization, and creativity. We always "sing your praises" to everyone we know. We tell them you can be trusted to handle all aspects of the building process with professional expertise and integrity.
Thanks for a beautiful home.
Camille Deer David A Deer, M.D., Radiation Oncology"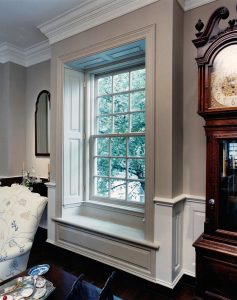 "To Whom It May Concern:
The Saylors are pleased to add our name to the list of those strongly endorsing Robert Montgomery Homes, Inc.
Certainly we are proud of the finished product. But more than that, it was a true pleasure to work with Robert. We could not overstate our respect for his talent, integrity and attention to detail.
The entire Montgomery Homes team clearly exceeded any and all of our expectations!
Our many thanks,
Jan & Bill Saylor"
"To Whom It May Concern:
We know now that our decision to contract Robert Montgomery Homes, Inc. as our builder was the right one to make. We were amazed at the personal attention Robert paid to our project. It was easy to see he knew how important it was to us. His training as an architect gave him the knowledge to beautifully blend modern construction techniques with authentic historical details of decor.
We're convinced that we found the equation to successful home design: Robert Montgomery Homes, Inc. = Quality / Integrity!
Susan Bubb
Stephen K. Bubb, M.D., Orthopaedic Surgeon"
"Dear Robert,
We have very much enjoyed the kitchen remodel/building addition which you completed
for us. We appreciate your professional approach to the process and the quality of the final product.
Should the occasion arise that a prospective client would like to discuss your work with a past client and see an example of your remodel work nearby, please don't hesitate to call me and I will be happy to show and talk about our project.
Glenn E. Zumbehl, Real Estate"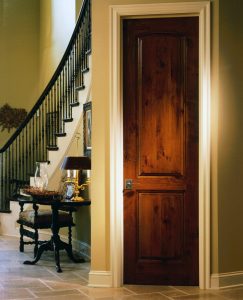 "Dear Robert,
We have very much enjoyed the kitchen remodel/building addition which you completed
for us. We appreciate your professional approach to the process and the quality of the final product.
Should the occasion arise that a prospective client would like to discuss your work with a past client and see an example of your remodel work nearby, please don't hesitate to call me and I will be happy to show and talk about our project.
Best Wishes,
John E. Kerwin, President, Security Land Title Company"
"Dear Robert,
What a super job you did! If you ever need a recommendation, just call us. You, Robert, are the best! Thank you so much. We are so happy!
Bob & Carol Hewlett"
As builder of the finest luxury custom homes in Kansas and Missouri, Robert Montgomery Homes, Inc. is your best value for a uniquely enjoyable and rewarding building experience.
Contact Us
Robert Montgomery Homes, Inc
4204 West 124th Street
Leawood, KS 66209-2251
(913) 338-5500
[email protected]

Materials in this website are Copyright © 2021 by Robert Montgomery Homes, Inc., 4204 West 124th Street Leawood, Kansas, all rights reserved. Text, photography, graphics, HTML code, and other intellectual property are protected by U.S. and International Copyright Laws, and may not be copied, reprinted, published, translated, hosted, or otherwise distributed by any means without explicit permission.